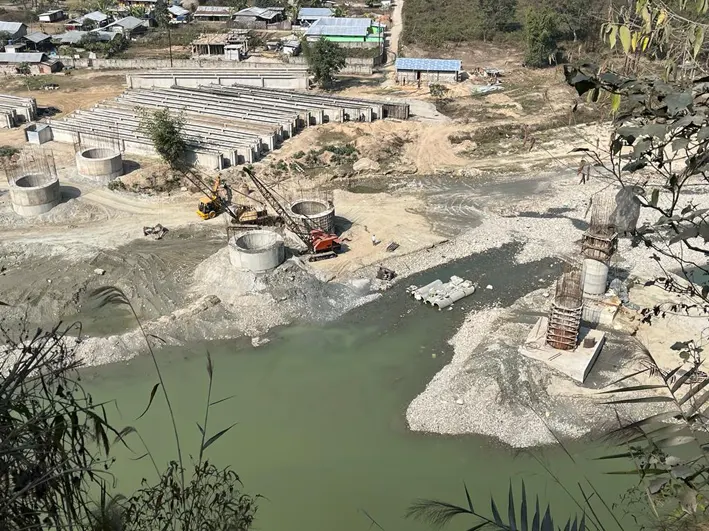 [ Bengia Ajum ]
ITANAGAR, 24 Jan: The construction of the four-lane highway between Nirjuli and Banderdewa is facing hurdle due to the failure of the Itanagar Capital Region (ICR) district administration to clear compensation for certain stretches.
The 7.3-km-long Package C, which starts from Nirjuli and will end in Banderdewa, includes a 1.1-km viaduct over the Pare river to avoid the Karsingsa sinking zone. The administration handed over this stretch to contractor ARSS Infrastructure Projects Limited in August 2021.
However, the work faced hurdles from the beginning itself. The initial six months were lost due to issues raised by the environment, forest & climate change department.
Though the work has picked up pace since then, the compensation issue is now creating a major obstacle in the progress of work. The compensation issue has not been resolved at critical areas, due to which the landowners are not allowing the contractor to carry out work.
"The viaduct starts from Nirjuli and ends in Karsingsa. At the entry and exit points, the compensation has not been paid. This is making things very difficult to execute the project. Similarly, the compensation issue has stopped work at the toll plaza and the weight bridge section in Karsingsa," said an official on the ground.
It is feared that, if the compensation issue is not resolved at the earliest, the project will be delayed by more than a year.
"We had planned to complete Package C by early 2024. However, if compensation keeps on lingering, it is going to push the project by another year, and the people of the ICR will suffer a lot. We appeal to the authorities to seriously look into the matter and resolve it at the earliest," the official said.
The compensation for this stretch was prepared way back in 2016-17, and the fund has been sanctioned by the government. But it has not been disbursed for certain areas due to administrative issues.
The earth-cutting is almost on the verge of completion, barring the stretches where work has been stopped due to the compensation issue.
Further, the work on three bridges is also picking up pace. "The bridges will be completed by 31 March. We are also trying to complete the DBM, on the stretches where earth-cutting is completed, by 31 March. Besides this, we are also taking care of the pollution issue and are regularly sprinkling water to minimise dust pollution," the official went on to add.
Meanwhile, the residents of Karsingsa have applauded the work done so far. "The four-lane highway passes through the middle of my village. I have observed that there is no lack of men and materials on the ground. Till this stage, they are doing a good job. Hope the project is completed at the earliest," said Daniel Teli, a resident of Karsingsa.