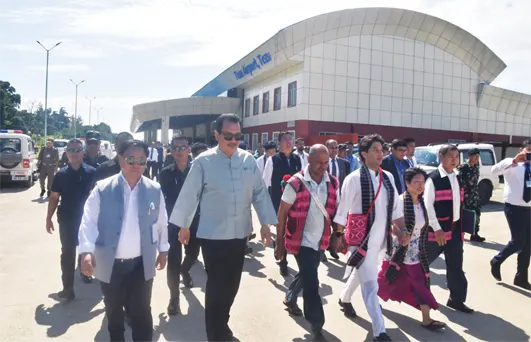 ITANAGAR, 24 Sep: Union Civil Aviation Minister Jyotiraditya Scindia on Sunday announced that three new air routes will be made operational in Arunachal Pradesh by October this year.
After inaugurating the newly-developed infrastructure at the Tezu airport in Lohit district, Scindia said that, under the Centre's UDAN-5 scheme, Itanagar will soon be connected to Rupsi, Jorhat, and Delhi.
Ude Desh ka Aam Nagarik (UDAN) is a regional connectivity scheme aimed at developing smaller regional airports to allow common citizens easier access to aviation services.
The Tezu airport is the fourth in the state after Donyi Polo, Pasighat and Ziro airports and 17th in the Northeast.
The minister said that, in the last 65 years, there were only 74 airports in the country, but in the last nine years of the BJP government at the Centre, 75 new airports have been constructed.
"The jodi of PM Modi and Chief Minister Pema Khandu is taking Arunachal to new heights," Scindia said.
"The eight northeastern states, which were being neglected for decades, received a major developmental boost after Prime Minister Narendra Modi came to power in 2014," the union minister said, and added that the region is "a jewel in the country's crown."
Scindia added that the region would be a gateway for India to the Southeast Asian countries with its horticultural and agricultural potentials.
"Under the leadership of Modi, the influence of India has increased significantly and everyone witnessed it when presidents and PMs of various countries arrived in New Delhi for the G20 meeting," he said.
"My relationship with Arunachal Pradesh is very old. When the brother-in-law of my grandmother was posted as major general in the state in the 1960s, the government of India gave him an opportunity to name one of the bordering village, which is now famous as Vijaynagar," the union minister said.
The newly-developed infrastructures in the airport include an extended runway, a new apron, a new terminal building, a fire station and an ATC tower. These have been built at a cost of Rs 170 crore, officials said.
The airport has been developed on 212 acres of land, and is capable of handling operations for ATR-72-type aircraft. The Airports Authority of India did the upgradation work of the airport, officials said.
The airport was operationalised in 2018 under the regional connectivity scheme UDAN. It is at present connected to Dibrugarh, Imphal and Guwahati through regular scheduled flights by Alliance Air and Flybig Airlines.
The terminal building of the airport has an area of 4,000 sq metres, with a peak-hour capacity of 300 passengers. It has five check-in counters at present and will be increased to eight in the future.
The airport has two arrival carrousels and two aircraft parking bays for ATR-72-type aircraft, officials said.
The upgradation would help the airport handle more traffic, ensure better connectivity of the northeastern region with the rest of the country, and boost tourism and trade, besides generating employment, officials added. (PTI)